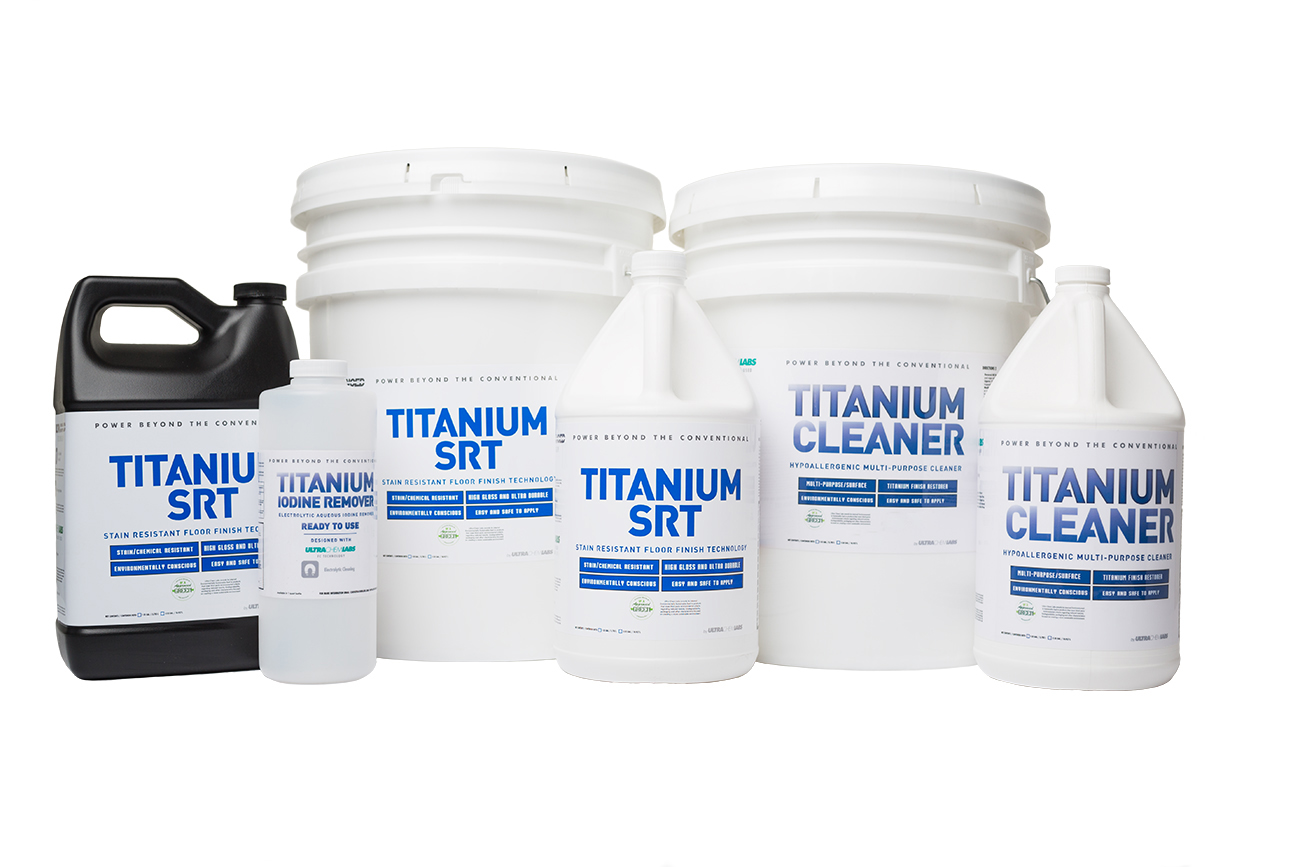 TITANIUM SRT
Titanium SRT is a stain and chemical resistant floor finish protector for resilient floors, vinyl tile and vinyl sheet flooring. Titanium SRT utilizes a synergizing combination of Ultra Advanced Technology and Ultra Floor Care technology to produce an environmentally preferable finish with extraordinary high gloss, and durability that is resistant to high traffic, scratches and scuff marks.
Beyond the already incredible advantages Titanium SRT provides, this product embodies real safety for the environment, property and the end user by reducing source pollution and extending or eliminating floor finish stripping cycles. Say 'goodbye' to stripping when preparing to reapply Titanium SRT. Simply scrub and re-coat the existing floor finish and you are ready to go.
Solids: 32%
Available in gallon bottles (4gal/case) gallon bags (2gal/case) and 5 gallon pails.
TITANIUM CLEANER
'Titanium Cleaner' is an environmentally conscious, hypoallergenic, multi-purpose floor cleaner, efficient for degreasing and brightening all washable surfaces. It will remove the toughest soils from floor finishes while restoring and conditioning the surface. Titanium Cleaner is also ideal for daily auto scrubbing or damp mopping cleaning procedures.
'Titanium Cleaner' is designed to clean and enhance Titanium SRT floor finish. By using Titanium Cleaner in conjunction with Titanium SRT, you will sustain a high level of brilliance while preserving long lasting durability.
Available in gallon bottles (4gal/case) and 5 gallon pails.
TITANIUM IODINE REMOVER
Treat shortly after contact, and before mopping or washing. Simply spray the ready to use solution of Titanium Iodine Remover on the stain. Light agitation by stiff brushing may be required to remove stains that are old and have come in contact with other chemicals.
Titanium Iodine Remover will easily remove stains left behind by Povidone Iodine solutions. Titanium Iodine Remover will not remove flooring wax; stains under wax will not be remove without stripping the wax first. Some older porous flooring may not be treated successfully.
READY TO USE available in 1 quart bottles.